About Us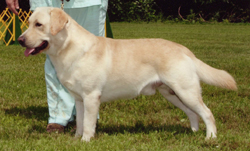 We are a small, family-owned kennel breeding quality English-style Labrador Retrievers located in Southeastern Massachusetts.
I first fell in love with Labs years ago when I adopted Snuffy, my mother's black Lab, when she retired to Florida. Snuffy was a wonderful dog who was well-known and well-loved throughout the neighborhood. However, at only eight years of age, Snuffy died of complications related to having bad hips. Because of this, I now take every possible precaution in breeding my dogs to prevent such genetic problems from arising. All of our dogs have hip, elbow, heart and eye clearances before being bred.
Also, as it is so important to foster the natural good temperment of Labs, I limit my breeding to one to two litters per year, and all litters are born and raised in my home. This allows me to work closely with them and begin training them as great companions.
Labrador Retrievers are the most loving, well-behaved dogs I have ever worked with and they are sure to make great new members for any family!